St. Patrick's Episcopal Church
Incline Village, Lake Tahoe, Nevada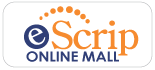 (Click the logo to the left to shop online without needing to register with eScrip.)

Sign up now for one or both of the scrip programs in which St. Patrick's is enrolled. It's painless and helps with programs such as outreach. Doesn't cost you a cent and almost no time. Raise money for St. Patrick's while you do your urual shopping - how cool is that?!

So get onboard! Snowbirds: You don't need to wait to be back in Incline to get started.
eScrip
For all those other stores where you shop and for travel (hotels and airlines), sign up for eScrip. There are dozens of stores of many types that participate in the eScrip program, and in most cases, you don't have to pull out a different card - just your credit card Notice the little padlock in the address line of your browser window when you use the site - it's a secure site and a very conconscientious group, so you should feel comfortable doing this.

Here's how it works:
Register your major credit cards and any applicable store cards such as a Macy's card.
Use your registered cards when you shop.
Each participating merchant sends us money!
You don't have to remember which merchants are involved -- it's automatic.
There is no change to you.
You can look for specific participating stores on the eScrip site, either by area or type of store.
To see what's of interest, Check here.
Register: Here's how you register:
Go to the eScrip Web site to check out the program.
Click sign up at the top.
Click your way thru the supporter registration steps.

St. Patrick's Group ID is 500030662.
Or just type in the zip code (95451), and click St. Patrick's Church Incline Village NV

Watch for the confirmation email.
Confirm your registration.
Raley's is discontinuing the Quality of Life Card program, replacing it with their "Something Extra" rewards program.

So, to keep funds coming to St. Patrick's, you need to sign up for the new program, which not only will continue to direct funds to St. Patrick's (now called "Extra Credit"), but earns points for yourself when you shop.

Please take the time to sign up for this new program by doing the following:
If you don't already have a Raley's online account, first establish one:

Go to Raley's Web site www.raleys.com
Click Start Here on the right.
Under Already have a Raleys.com account? click No.
Supply your email address, a password, and other information on the next screens.
Once registered, you should be back on the home page.

If you already have a Raley's account:

Click Something Extra on the tab bar at the top of the home page.
Click Yes on the next page asking Already have a Raleys.com account?
Login and follow the instructions.

Once you have a logon and are logged in, you need to name St. Patrick's by doing the following:

On the right on the home page, click Manage Your Account
On Your Membership page, click Extra Credit on the right.
On the Extra Credit page, click Select Organizations.
On the left, enter "St. Patrick's" (without the quotes) in the search field, then click Search Organizations
Click our St. Patrick's, then select 100%, then click Save Your Selections
ALERT: If St. Patrick's doesn't appear in the search results, as it hasn't for some folks, please call Raley's Customer Service at 800-925-9989.
If you got a Something Extra card at the kiosk at the store, you need to go thru the above to add scrip for St. Patrick's to your membership benefits. If you haven't gotten a card yet, you will get one in the mail once you are signed up via the Web site.

If you have any questions or problems, you can call Raley's at 800-925-9989 or send email. There are also FAQs.

So shop at Raley's, use your Something Extra card, don't spend any extra, and St. Patrick's gets cash for outreach! When you checkout at Raley's, just swipe the card or press the Something Extra button and enter your Loyalty Number, usually your ten-digit phone number. Note: you get only one card, but then you don't really need the card since you can type in your number.

P.S. This includes Belair and Nob Hill Foods stores. Other questions? Need help? Click on the mail box (over there to the left) and send us email.